Our Next Concert
"Soundscapes"
October 18, 2015
3:30 p.m.

First Baptist Church
3630 Fairmount Blvd
Shaker Heights, OH 44118
Pärt: Fratres for Winds and Percussion
Bach: Violin Concerto No. 1 in A Minor
Gabrieli: Canzon Septimi Toni No. 2
Schumann: Symphony No. 1 "Spring"

Charles Latshaw, guest conductor
Emily Cornelius, violin
---
Announcing the winner of HCO's American Composer Competition!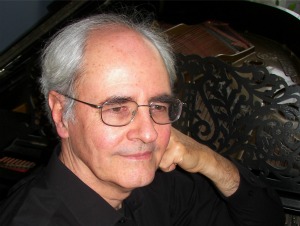 R. Michael Daugherty's "Nothing Bitter Suite"
The Heights Chamber Orchestra is pleased to announce the winner of its 2015 American Composer Competition. This piece will receive a world premiere performance by the orchestra on April 3rd, 2016. Read more about the composer R. Michael Daugherty.
---
Heights Chamber Orchestra
Beethoven, Bach, Sibelius, Ives, and Mozart. No matter what your taste in music, HCO's 2015-2016 season promises classical favorites, rarely heard musical gems, accessible contemporary works, and songs of love that are sure to delight. I invite you to join us for every concert, performed in some of our favorite venues. And, afterward, plan to stay to meet with friends, members of the orchestra, and soloists for an always tasty reception hosted by the Friends of HCO. All of our programs are free and open to the public, made possible through the generosity of our audience, donors, and advertisers. What's not to like about this season?
Sue Schieman
President, HCO
---
Our 2015-2016 Season
October 18, 2015
"Soundscapes"
Emily Cornelius, violin


First Baptist Church
3630 Fairmount Blvd,Shaker Heights, OH 44118

Pärt: Fratres for Winds and Percussion
Bach: Violin Concerto No. 1 in A Minor
Gabrieli: Canzon Septimi Toni No. 2
Schumann: Symphony No. 1 "Spring"
November 22, 2015
"The Northlanders"


Church of the Gesu
2470 Miramar Blvd, University Heights, OH 44118

Sibelius: Finlandia
Jarnefelt: Berceuse
Grieg: Sigurd Jorsalfar Suite, Op. 56
Beethoven: Symphony No. 1 in C Major, Op. 21
February 14, 2016
"Music for Lovers"
Laura Lindauer, soprano
Timothy Culver, tenor


Bohemian National Hall
4939 Broadway Ave, Cleveland, OH 44127

My Funny Valentine
Belle of the Ball
You Made Me Love You
Intermezzo
Blue Tango
Salut d'amour
Wine, Women and Song
Bésame Mucho
Adagio from Sym. 2
Vocal Selections TBA
April 3, 2016
"Something Borrowed, Something...NEW"


St Paul's Episcopal Church
2747 Fairmount Blvd, Cleveland Heights, OH 44106

Buck: Festival Overture on the Star-Spangled Banner
R. Michael Daugherty: Nothing Bitter Suite (world premiere) American Composer Competition Winner
Ives: Symphony No. 2
May 8, 2016
"Mozart for Mothers"
Donna Lee, piano


First Baptist Church
3630 Fairmount Blvd,Shaker Heights, OH 44118

Mozart: Don Giovanni Overture
Mozart: Piano Concerto No. 23 in A Major
Mozart: Symphony No. 41 in C Major "Jupiter"